What exactly is a whole grain?
Whole grains are so much more than fibre and so much better than refined grains when you look at it from a nutrient's perspective. They offer a "complete package" of health benefits that we strip when we mill and refine the grains.
Every grain grows whole grain. But a grain is only whole grain if it has all three parts intact in their original properties.
The bran = fibre, vitamins and minerals
The endosperm = carbohydrates & vitamins
The germ = protein, vitamins, minerals & antioxidants.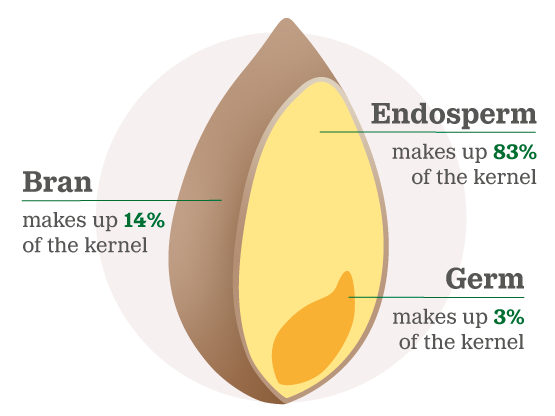 Milling strips away most of the bran and germ and leaves only the soft, easy-to-digest endosperm. Without the fibrous bran, the grain is easier to chew but the more we process the grain, the more we decrease its nutritional quality. Refining wheat creates fluffy flour, but the process strips away more than half of wheat's B vitamins, 90 percent of the vitamin E, and virtually all the fibre*.