Curved All Butter Croissant 70g
Product Code: 17900023
g weight per piece: 70
---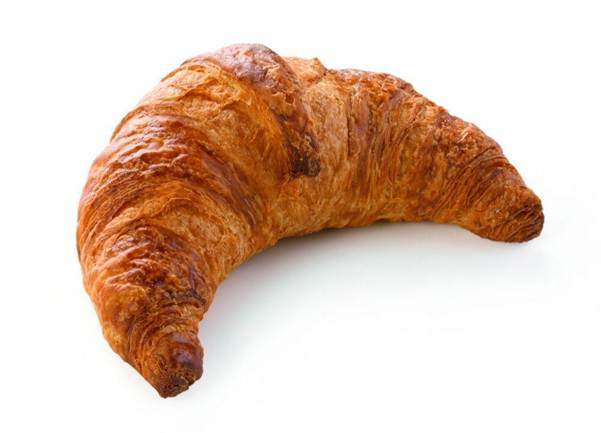 Made with 16 layers of all-butter croissant dough, using a unique dough resting process to develop optimum flavour and texture. Crafted into a curved croissant shape. Ideal for breakfast or mid-morning brunch offering, or why not try adding a filling for a delicious alternative to a sandwich carrier. Perfect to upsell with a drink for a café, coffee shop, restaurant, hotel or for catering.
Expertly crafted with the traditional 16 layers of light, flaky, buttery French pastry.
Combining over 150yrs of bakery experience with the most modern baking techniques.
Our frozen French Pastry range bake off in as little as 18 - 20 minutes providing that amazing bakery aroma and freshly baked look and taste whilst managing stock and waste
Crafted using a unique dough-resting process which allows the dough to rise naturally for optimum flavour and texture for the perfect croissant experience.
Storage & Handling
Storage at -18°C or colder.
Bake at +/- 190°C for +/- 18 min
Nutrition
---
Energy, kcal

338 kcal

---

Energy, kJ

1415 kJ

---

Fat

18 g

---

- of which saturates

12 g

---

Carbohydrate

37 g

---

- of which sugars

6.2 g

---

Fibre

1.6 g

---

Protein

6.5 g

---

Salt

0.87 g

---
Ingredients
---
INGREDIENTS: Dough: WHEAT Flour (contains: WHEAT Gluten, Flour Treatment Agent (Ascorbic Acid E300)), Butter(MILK)(20.6%), Water, Yeast, Sugar, Salt, Baking Improver (WHEAT Gluten, WHEAT Flour, Yeast, Flour Treatment Agent (Ascorbic Acid E300)), EGG. Topping: EGG Wash.
Allergen Information
Milk
,
Eggs
,
Cereals containing gluten
.
May contain traces of:
Nuts
.
Country of Origin Belgium